Windows Explorer presents user interface items on the monitor, such as the taskbar and desktop. However, Windows users often face problems with it!!! One of the most common problems is when all of a sudden you get a message saying "Windows Explorer has stopped Working". This Windows 10 File Explorer Not Responding error is what we will be covering in this article.
We will summarize 11 solutions towards file explorer Windows 10 not responding issue with detailed steps and screenshots. If you encounter Windows explorer not responding issues, try them right now.
Also Read: How to Fix WiFi Keeps Disconnecting
How to Fix File Explorer Not Responding Error in Windows 10
Here are all the methods that you can try in order to fix this problem.
Method 1: Restart The Windows Explorer in Task Manager

Step 1: Press Ctrl + Shift + Esc to start Task Manager. Then navigate to Windows Explorer.
Step 2: Right-click on the Windows Explorer option and choose End task.
Step 3: On top of the Task Manager window, click the File option and choose Run new task.
Step 4: Type explorer.exe in the input box and then hit Enter.
Method 2: Open A Separate Window
Step 1: Open the File Explorer (If you are not able to open it then move on to the Next Methods.).
Step 2: As you can see below in the screenshot, click on "View" option at the top left corner.
Step 3: The panel has dropped down and look for the "Options"  button in the left corner and click on it.
Step 4: A  new tab opens now, and you can see that there is another tab called "View," open it.
Step 5: There are several other options, scroll down until you find the "Launch Folder Window in Separate Process," you have to check/tick the area.
Step 6: Click "Apply"  and then "Okay."
In several cases, this is the primary cause of the problem and it will help you to get rid of the unresponsive file browser to another window and helps you to get rid of the problem instantly.
Method 3: Clearing File Explorer's history cache.
This is the method that seems to work for most of the users. As with restoring the File Explorer's settings to default, this is done from the File Explorer Options window:
Step 1: Open Windows Search (click on it or use the Win + S shortcut), begin typing "File Explorer Options" and click on the entry when it comes up.
Step 2: In the Privacy section of the window that comes up click on Clear present next to the Clear File Explorer History then click on OK.
Step 3: Restart your computer when done and see if File Explorer now opens correctly.
Method 4: Disable Windows Search 
1) Type cmd.exe in the windows search box. From the list of choice, right-click on Command Prompt and choose Run as administrator.
Click Yes at the UAC(User Access Control) window prompt.
2) In the Command Prompt window, type in the following command:
net.exe stop "Windows search"
Then hit Enter.
This should fix Windows 10 File Explorer Not Responding Error.
Method 5: Removing recently used files in Quick Access
Step 1: Go to the search bar and search for "Control Panel".
Step 2: In the "Control Panel", you have to navigate to the "Search Bar" option, which is located on the top right side of the window.
Step 3: If you have found the search bar then type "File Explorer" and results will show up based on your System Configuration.
Step 4: The first result would be of "File Explorer" and open it.
Step 5: As you can see above that a new tab pops up on your screen.
Step 6: As you can see from the image below that you have to use the "Clear" option to erase all previous data that is the primary cause of the issue. You can just click on the "Clear".
Step 7: Now click "Apply" or "Okay."
This option will remove the recently used files in the Quick Access, and it will also remove the Quick Files.
Method 6: Run System File Checker Scan
System File Checker is a Windows built-in utility for the users to scan for corruptions in Windows system files and restore the corrupted files. If your Windows 10 file explorer is not responding, it may be caused by any corrupted files on your drive. And many users said that the file explorer not responding issue was fixed by System File Checker scan.
Step 1: Type cmd into Windows 10 Cortana search box. Find the best match, right-click it and choose Run as Administrator.
Step 2: Input sfc /scannow and press Enter.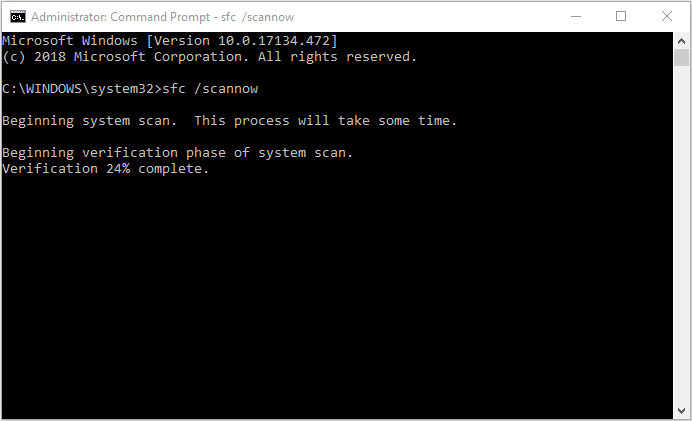 Step 3: After the scan, restart the computer and check whether the issue has been resolved.
Method 7: Check for possible faulty programs

Some say that it is the antivirus program AVG that triggered this error. Once shut down from Task Manager, File Explorer is back.
You should try the same as well. Check to see if there is something unusual happening when you access your File Explorer.
Method 8 – Display issues can be a common cause of this problem. Changing scaling settings can fix this problem
In the display settings, you can change the scaling of text, apps, and other items. If you have this set to a value other than 100% it can potentially cause these issues. Having it set to 175%, in particular, is known to cause the File Explorer not responding issue.
Step 1: Go to the desktop and then right-click on the background then click on Display settings.
Step 2: In the Display settings window click on the box under Scale and layout and change it to 100% if it is not already that. If it is already set to 100% then scaling is likely not causing the issue.
Step 3: As before, restarting your computer afterward just to be sure the change taken effect is worth doing.
Method 9: Create a New User Account
Creating a new user account has fixed the issue of file explorer not responding for some of the users facing the same problem. After creating a new account and logging into it, they might find that the Windows 10 File Explorer is working normally there.
Using a new account will remove the recently used files in the Quick Access. If this way works for Windows explorer not responding issue, you can try moving all of your data from your old account to your new account.
The only problem is that you may need to reinstall (some) applications for your new account. If you find this inconvenient or complicated, try other solutions.
Method 10: Update Windows 10 to the Latest Version
If you are not running the latest version of Windows 10, it is recommended to upgrade to the latest version as Microsoft fixes most known issues like file explorer not responding via their updates.
Step 1: Right-click Windows Start menu and choose the Settings option
Step 2: When you get the Windows settings interface, choose Update & security.
Step 3: Then click Windows Update and click Check for updates button to install the latest updates.
Method 11: Restore Windows 10 to an Earlier Date
If System Restore feature is active on your PC, you can try restoring Windows 10 to an earlier date when it was working fine.
Step 1: Input create a system restore in the Windows 10 Cortana search box and choose the best match to open the System properties.
Step 2: In the System Protection section, click on the System Restore. If you do not enable system restore, the System Restore button will be grayed out.
Step 3: Follow the on-screen instructions and select a restore point to restore your system to an earlier date when your file explorer worked normally.
Final Words
So that's it. Here are all the 11 methods that will help you to Fix Windows 10 File Explorer Not Working problem. If you still need help with anything at all, do let us know in the comments section below and we shall get back to you with a solution as soon as possible.